Dirham Homes, was incorporated in 1976. Now, decades later, Dirham is leading the way in quality and expertise in the housing market here in Grande Prairie. Having built over 2,000 homes in Grande Prairie and surrounding areas since those early years, Dirham knows about responding to the market in order to consistently produce quality homes for satisfied customers.
Dirham builds to accommodate all levels of the housing market. In order to do this with efficiency and organization, Dirham Garage-less was created as a division of Dirham to build the entry-level homes without garages. These two divisions build approximately 100 homes per year, all with innovative style and affordability.
Dirham is also meeting the needs of a growing entry level market with our line of Multi-family homes. Building attractive quality constructed townhouses and duplexes for consumers looking for their own entry level home.
Our construction quality continues to improve with every new home construction innovation. Dirham Homes realizes todays consumers are looking for more energy efficiency in all aspects of their lives, and home ownership is no exception. That is why now you will find as standard features in our homes Energy Efficient Low - E (Argon Gas) Windows, High Efficiency Forced Air Natural Gas Furnaces, Hot Water on Demand, Energy Efficient Light Bulbs.
Dirham also has a long history with all its trades, which assures the homeowner that the highest standards of house construction are maintained at all stages of the building process. Dirham's goal is to provide you with the level of quality and cost-efficiency that your dream home deserves! We are a young, experienced and energetic team that is enthusiastic about creating innovative, environmentally friendly housing.
We build in many of Grande Prairie's top communities and offer a wide range of home designs, interior selections, and value added features. Our customers know us for our quality and attention to them throughout the entire home buying process.
We Will Guarantee The Sale of Your Current Home*
When buying a Dirham home, we will guarantee the sale of your home as you plan to buy ours. This is a huge advantage for you to get into that home you have been dreaming about. If our builders approve your home, then we will sell, buy, or trade your home for you in order to let you get what you are looking for.
*Some restrictions apply.
Alberta New Home Warranty
Dirham is proud to have over twenty years as an ANHW member. This warranty program is the best in the business. This gives you even more confidence that when you purchase a Dirham home, you are getting the very best in building quality.
Locally Owned
Dirham is a longtime, locally owned company in the Peace region. We are proud to be involved in the community and give back to Grande Prairie's industry with our company. This long-term relationship as a local company has also given Dirham a strong relationship with all trades working alongside; this gives you the absolute best in quality and expertise.
Realtor Protection
Dirham has a strong relationship with all of Grande Prairie's Realestate Agents.
Dirham
Awards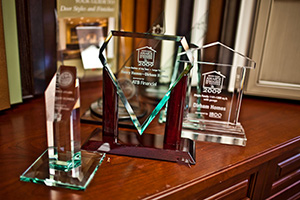 Dirham Homes' has been a consistent leader in receiving local awards for excellent quality and customer satisfaction. We also have been further supported by the Grande Prairie Home Builders' Association through an extensive list of awards we have received. This list includes Customer Choice Awards, Best Single Family Home in numerous categories, and even the prestigious Award of Honour.